ALWAYS WANTED A SCREENED IN PORCH, A SUNROOM OR A GREAT PATIO? 
NOW IS THE TIME TO ADD AN EXCEPTIONAL PATIO WITH SEVERAL AFFORDABLE OPTIONS TO CHOOSE FROM FOR EVERY BUDGET!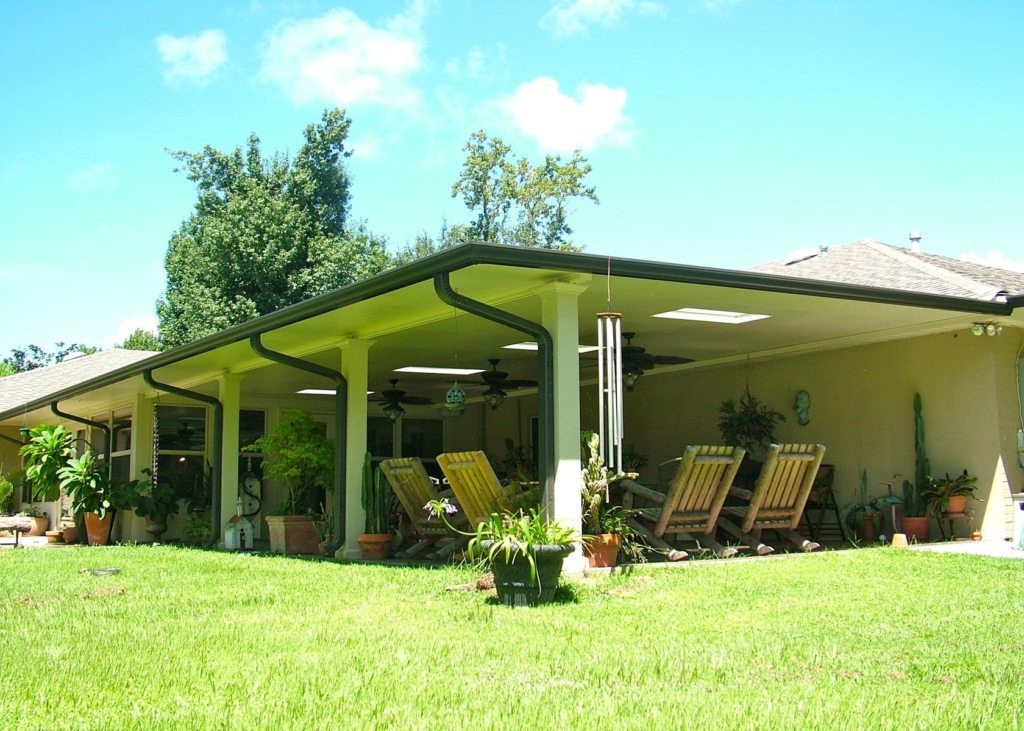 Have a great space for your family to enjoy

Increase the value of your home

Add that extra wow when selling your home

Have a place to unwind after a hard day

Enjoy the outdoors even on the hottest and coldest days

We're licensed and insured.
Let Accent Home Improvements add to the style and functionality of your home with a patio cover, or additions like a screened or glass enclosure. Our skilled and experienced workers can also pour a concrete slab for your patio covers and patio enclosures. We offer products for both open-air screen systems and insulated systems, letting you enjoy the functionality of a patio while maintaining the temperature inside your home.
We'll come to your home at a time convenient for you to review your space, needs and budget. If you're looking for ideas on which patio would best meet your needs, we also offer a free and quick consultation with no obligation.
WHICH PATIO OPTION IS BEST FOR YOUR NEEDS?
New Orleans Patio Covers
Our most budget friendly patio option! 
We can increase your outside living space with one of our beautiful patio covers.  We can also add 8'', 10'' or 12'' decorative columns and a railing system to your cover.
From simple to extravagant, we have a patio cover for everyone's taste and needs!
Flat Pan Patios
We offer an extruded Flat Pan system. All the extruded gutters and valences are .094 thick. Our pans are .024 and .032 depending on your particular construction. These also have a wood grain finish.
Insulated Patio Covers
We offer a 3" foam panel with aluminum on both sides with a stucco finish.
On our Insulated Covers only, we can offer skylight and "K" style house gutter to match your home.
All our posts and beams are one piece, no crimp seam or self-mating (two piece) products in our systems.
Screened Patio Enclosures
No one likes mosquitos!  Shut these bugs out! 
From simple to extravagant, enjoy outdoor living any time of the day; even at dusk!
We'll help design the most affordable screened patio to fit your needs. You'll really be able to enjoy the outdoors all year long.
Our screen wall systems are great for that open air feeling, while keeping out all the unwanted pests.
We have three colors to choose from: white, ivory and bronze. Some door size options for your screen room are 32'' & 36'' and both can be built into a French door system.  Contact us today to see all of our great screened patio enclosure options.
Glass Patio Enclosures
Our glass patio enclosures are the best entertaining option for South Louisiana residents!  Whether the family is spending relaxing time together or if you're entertaining, a glass patio enclosure will keep everyone comfortable.  This patio option is truly an extension of your home.
Our insulated enclosure is a 3" wall system with double insulate vinyl windows. The windows come with "low E" glass and Argon gas. This option is also included in our full glass doors as well. These features are for maximum insulating value.
Save money on patio décor by keeping your furniture and fixtures out of the elements.
Glass patio enclosures add the most value to your home for comfort and convenience.  It will also add a tremendous amount of resale value in the case you want to sell your home.
Slab Deck
When building one of our patios or enclosures, we also can take care of your foundation needs. We can provide a concrete slab or a wooden deck system.
For more information please call us at (504)341-8178 for our Westbank location or (504)888-4733 for our Eastbank location.
Check out a few photos of our recent:
Patio covers, Carports, Garage Enclosures, Glass Patio Enclosures and Screened In Porch Additions
Ready To Get Your Project Started Now
Contact
Accent Home Improvements
Today!
Fill out our contact form below and we will get back to you ASAP.
Accent Home Improvements
2552 Crestwood Rd.
Marrero, LA 70072
Eastbank: 504.888.4733
Westbank: 504.341.8178
Follow Us On Social Media